1.Kanatal-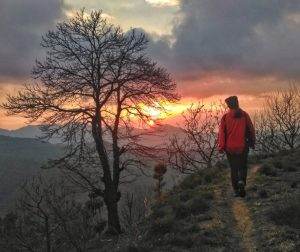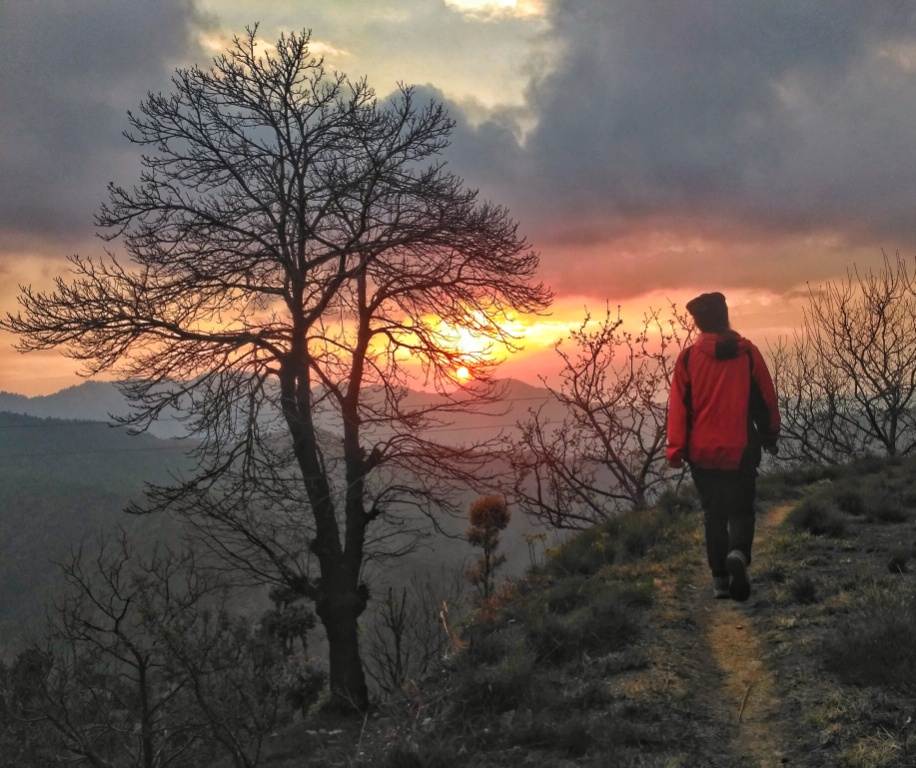 What if you get to touch the moon but not stars? Moon might be the ultimate piece of beauty but how can one ignore the existence of such an explicitly beautiful creation as stars? Yet, the travel freaks fail to encounter this amazing place after reaching crowded tourist points as Mussoorie. Kanatal – situated in the hills of the Himalayas near Mussoorie is an untouched scenic beauty.
'Kanatal' word itself draws curiosity behind such naming. It is believed among the folklore that a few decades ago there used to be a small taal (pond) in the area. When that 'taal' dried up locals started calling it as 'Kanatal'. 'Kaana' in Hindi means 'dry'. That's how this unique name was derived.
Kanatal is an isolated hill station which is a one-stop destination for camping and trekking. It's a place for both adventure as well as nature lovers. Kanatal is located at the height of 8400 ft and 08 Kms near Dhanaulti Camps.
2.Tehri Dam-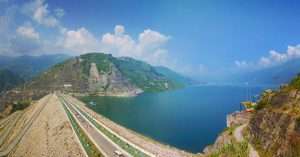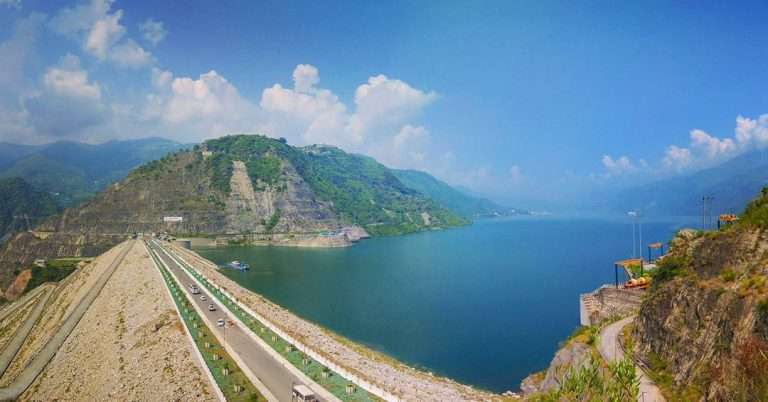 Situated at 27 km distance from Kanatal connected via Chamba-New Tehri road and Chamba- Mussoorie road New Tehri is among the only planned town in the divine state of Uttarakhand. New Tehri draws tourist attraction because of the presence of mesmerizing lake of Tehri as well as magnificent Asia's largest and highest dam which New Tehri hosts. Tehri Dam is built on the confluence of River Bhagirathi and Bhilangna.
Where resides the deity there rest the devotee- the town also owns the fragrance of spirituality and beholds Devi Kunjapuri Temple, Chandrarabadni Temple dedicated to Goddess Sati, Shri Adinath Digambar Jain Mandir, Sem Mukhem Temple dedicated to the snake god and Buda Kedar, where Duryodhana is said to have offered Tarpana. Makasar Taal, SehstraTaal and Khatling Glacier also gain major tourist attraction.
3.Kodia Jungle-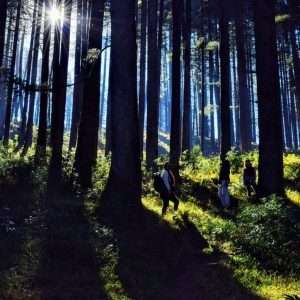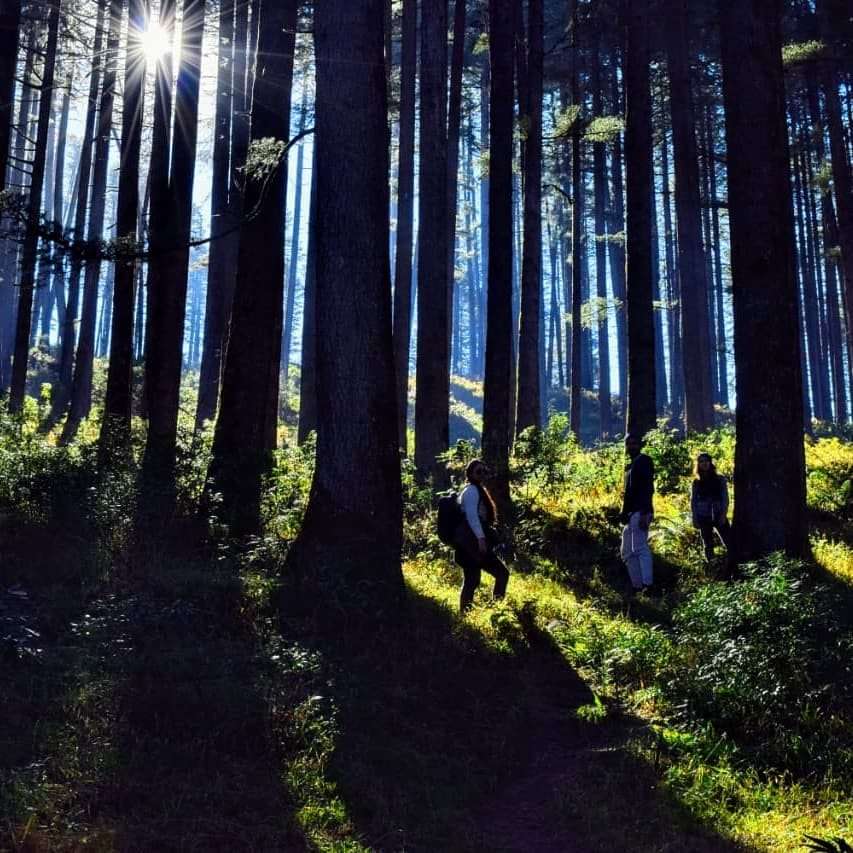 Situated at 1 km away from Kanatal on the road towards Chamba. If Kanatal's a garland then Kodia forest is it's most precious pearl. The whole compass is covered with a thick sheet of greenery where lays the essence of natural beauty. The trek to Kodia forest gives major opportunity to enthusiastic photographers who were waiting for a magnanimous show of natural beauty. The forest also inhabits several species of wildlife like- Musk deer, Kakar, Wild boar, Ghoraletc and many species of birds. Kodia Jungle is especially for those who cannot do Kanatal trek ( Surkanda Devi trek).
4.Mussoorie–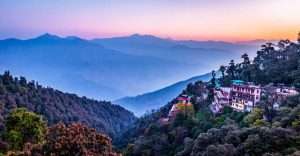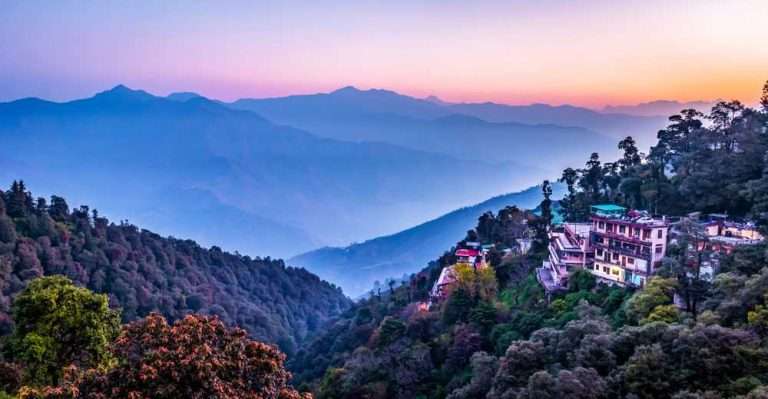 Situated at 49 km distance from Kanatal via Chamba – Mussoorie Road, settled at the foothills of Garhwal Himalayas, Mussoorie is popularly known as 'Queen of the Himalayas'. Mussoorie is famous for the explicit Kempty Fall which is most captivating spot for travel freaks. Mussoorie is also famous for paragliding and camping. The hill station holds the remnants of British Era which can be visualized in the Churches and buildings dotting around the highland.
5.Chamba–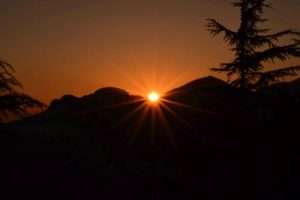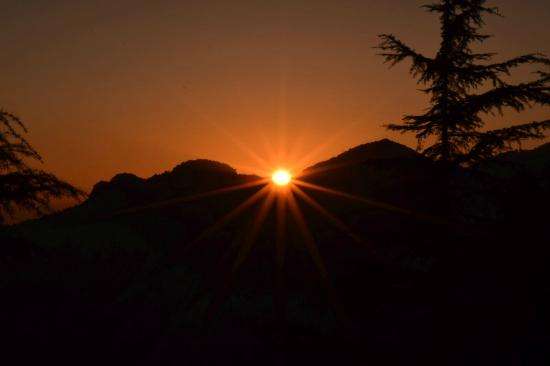 Situated at 16 km from Kanatal via Chamba- Mussoorie Road, Chamba is the most secluded corner of the compass. Chamba is the connecting link to many places like Kanatal, Tehri Dam and Surkanda Devi Temple. Located in the lap of Garhwal Himalayas- Chamba is an amazing picturesque of dense Pine and Deodar forest. If you are searching for solitude and solace then this your dream destination!
6.Dhanaulti–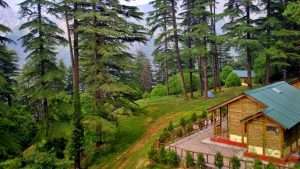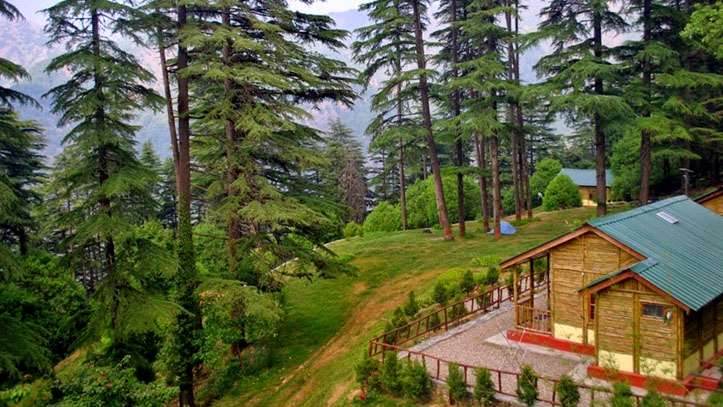 Situated at 87 km from Kantal via Maldevta road, Dhanaulti being 2200 metres above sea level experiences major snowfall in winters. Whether it is greeny meadows, awe-inspiring view of giant snow-caped Himalayas or thick virgin forests of Deodars, Oaks and Rhododendrons -Dhanaulti has gained major tourist allurement in recent years. Dhanaulti is a major hub for treks to Tehri Garhwal and Surkanda Devi Temple. Additionally, the Forest Department of Uttarakhand with the help of local youth has developed two Eco- parks in Dhanaulti namely 'Amber' and 'Dhara'. It houses a protected patch of small forest containing Deodar Trees.
7.Surkanda Devi Temple–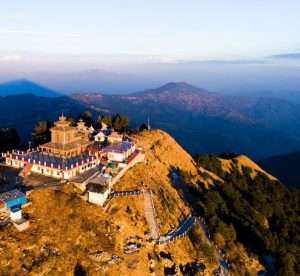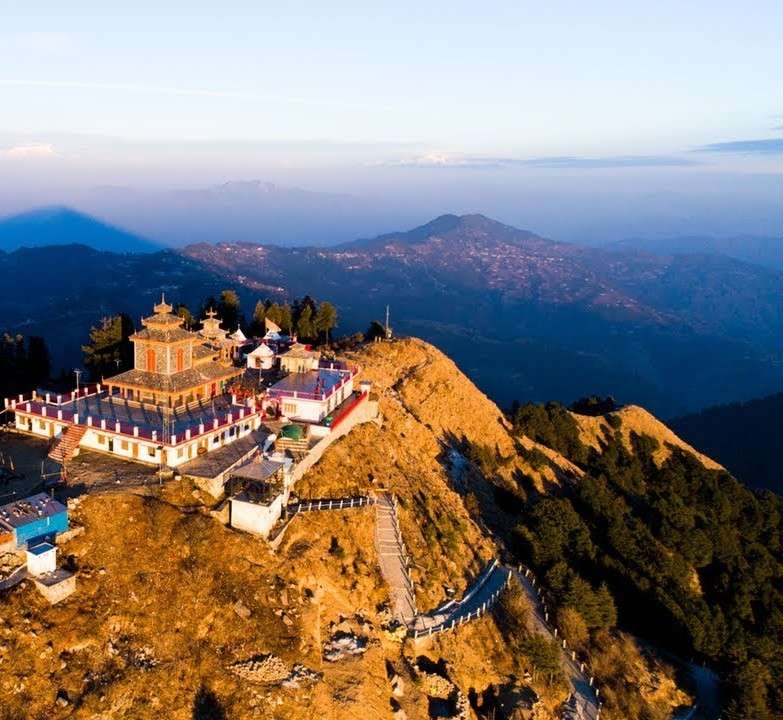 Situated at 10 km from Kanatal via Chamba – Mussoorie road, Surkanda devi temple is famous as one among 51 Shakti peeth of Maa Parvati. Mythology says that 'head' of Devi Sati fell on this place naming the place as 'Sirkhanda Devi' which was later renamed as 'Surkanda Devi Temple' by localities. It is situated at an altitude of around 10000 ft and is very much famous for Kanatal trek among adventure lovers. At the top of Surkanda devi peak, one can take a beautiful 360 degree view of snow caped Himalayas. It is one of the must places to visit in Dhanaulti and Kanatal.
SPECIALITIES OF KANATAL AND DHANAULTI-
1.CAMPING AND TREKKING IN KANATAL-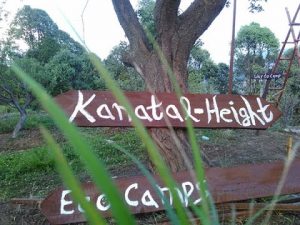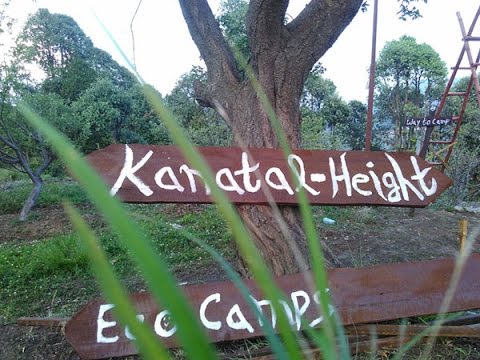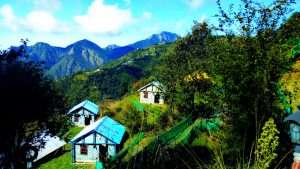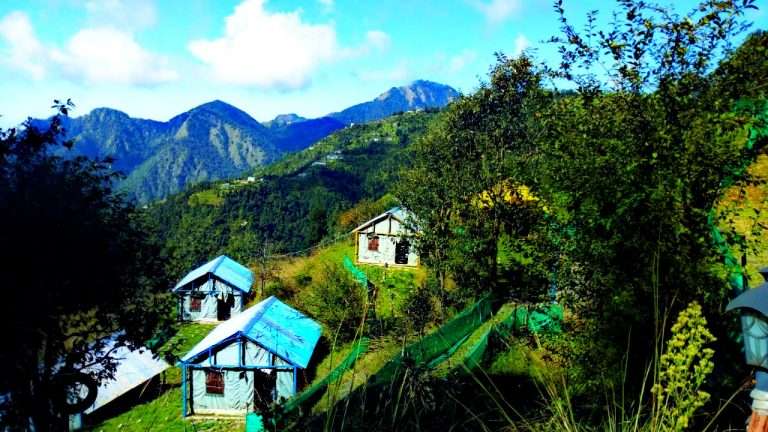 If your dream looks like a secluded serene corner amongst the comfy lap of mountains under the shelter of green blanket with alarm being the melodious chirp of birds then Kanatal and Dhanaulti camps is the place you dreamt of. Situated nearby 'Delhi'- the national capital of our country is one the offbeat thriller hub of Uttarakhand. Kanatal is an isolated hill station which is a one-stop destination for camping and trekking. It's a place for both adventures as well as nature lovers. Kanatal is located at the height of 8400 ft and 08 Kms near Dhanaulti Camps.
At KanatalHeights, you will get the chance to visualize apple orchids, with the enchanting chirping of birds all around the camps. Kanatal is a perfect off-beat destination near Mussoorie (only 30 km). The beautiful and picturesque 180-degree view of Mountains with the snow-covered Himalayas will fill you with a romantic charm while staying at Kanatal camps. Kanatal Heights has located only 06 km from the famous Surkandadevi temple and 10 km from Dhanaulti camps.
Kanatal Heights young and energetic team has shown full dedication to establish the camps in Kanatal with all adventurous activities in Kanatal and Dhanaulti. Additionally, we also offer team building activities in Kanatal and Dhanaulti for our corporate clients to enhance our employee's productivity, through unique programs under trained corporate managers while doing camping in Kanatal. Our camps include several modes of recreation and fun. We assure you for your entertainment and comfort. Kanatal heights will never fail to amaze you.
2.ADVENTURE AND WATER SPORTS IN KANATAL-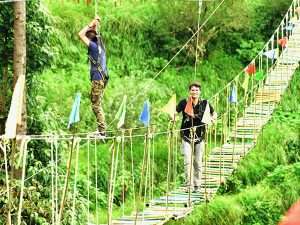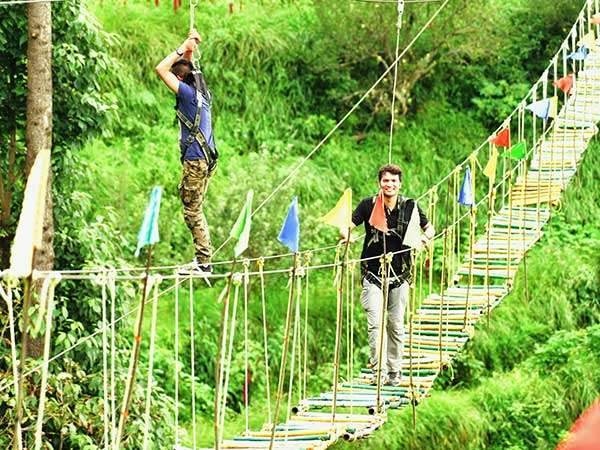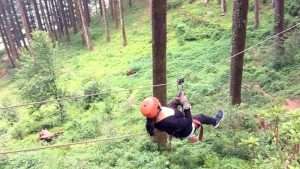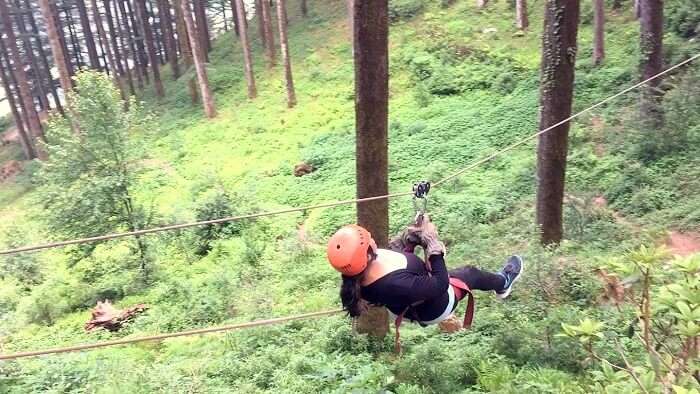 For adventure freaks, Kanatal and Dhanaulti offer many thrilling and exciting activities. Kanatal is famous for Adventure camps in Dhanaulti and Kanatal. The location of camps in Dhanaulti and Kanatal is easily accessible through your personal vehicle. It is situated near Chamba and Delhi to Kanatal covers about 350 kms on road. Kanatal from Delhi is accessible by two major roads, either you can reach via Mussoorie or Rishikesh-Chamba road, that's why it is also famous for camping near Rishikesh. We personally take care of our clients who visit our camps. We serve experience. We are specialized in Student Summer camps, Adventure camping in Dhanaulti and Kanatal. In Kanatal, you will find our Kanatal camps with more hygienic stays with on toes service for our tourists. We have also introduced moonlight trek to Surkanda Devi temple in Kanatal trek. Surkandadevi temple famous as shakti peeth in Hindu mythology is situated at the top of the mountain peak and is an attraction hub among adventure lovers also, that's why tourists come for Kanatal trek as well. People choose Dhanaulti camps and Kanatal camps for many reasons, while staying at Kanatal heights, one can experience camping and adventure in Kanatal additionally water sports activities in Tehri lake.Kanatal is not only known for trekking but also for an amazing picturesque of natural beauty. It is also very much known for water sports activities. Tehri Lake offers almost all the water sports activities like Speed boat, boating, zorbing, jet ski, and many others. The total distance of Tehri lake from Dhanaulti camps and Kanatal camps is around 35 km.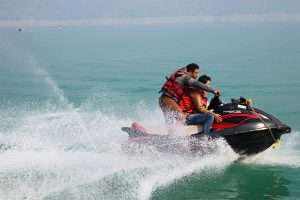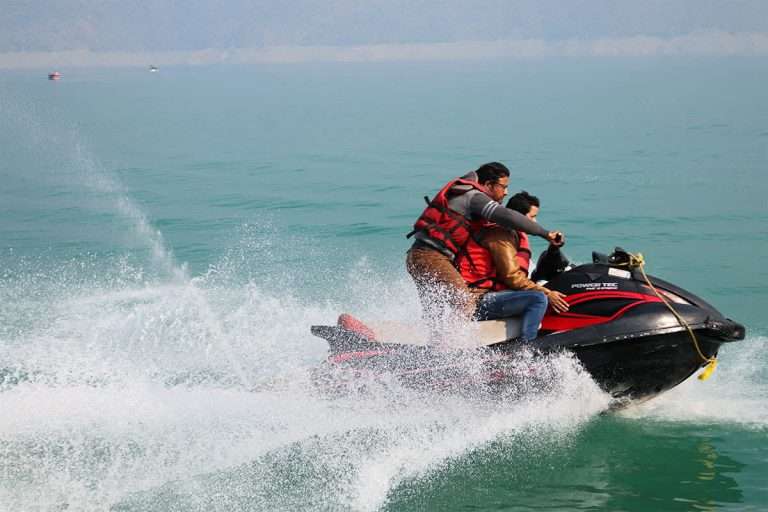 Kanatal is emerging as the tourist destination for adventurous activities near Dhanaulti and Chamba. One can experience Sky Bridge in Kanatal which is approx 300 ft long and is situated at 80 ft height. Secondly, Dhanaulti camps and Kanatal camps offer Valley crossing, Zip swing, Rock climbing and abseiling, Trekking and lots more to discover. At Kanatal heights, you will experience all these adventure activities nearby. That's why we recommend Kanatal Heights as must places to visit in Dhanaulti and Kanatal.
3 JUNGLE QUEST AND NATURE'S CHARISMA –
The greeny cave where endless mysteries lie. Kodia Jungle is very popular for several natural springs, mask deers, wild boar ghorals & famous among nature photography lovers. It is popular for a picnic spot in Kanatal hill station. It is situated exactly opposite to famous Kanatal resort in Kanatal called 'Kanatal club Mahindra'. It is one of the most famous Kanatal hotels and resorts in Kanatal. Kodia jungle attracts almost all tourists who come to stay in Dhanaulti camps and Kanatal camps. Kodia Jungle is especially for those who cannot do Kanatal trek (Surkanda Devi trek). Lastly, it is a must place to visit in Dhanaulti.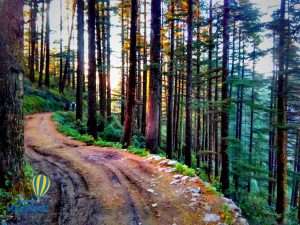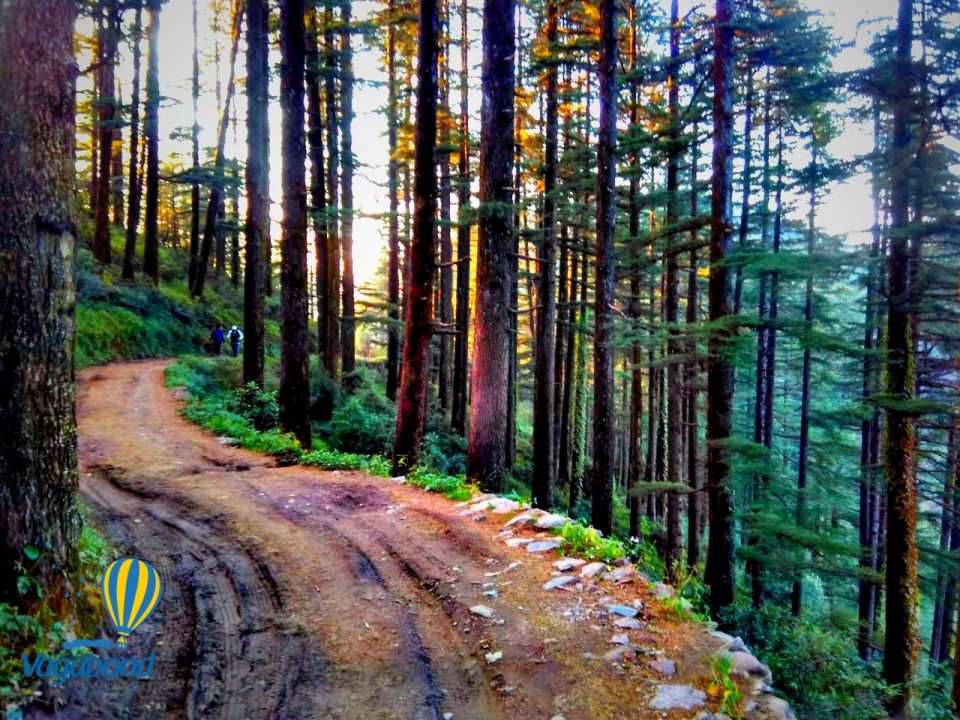 Kanatal and Dhanaulti signify glorifying scenic beauty. In the era of modernism where each one of us is chasing to lead a life with all electronic comforts, Kanatal outlines your definition of comfort. Untouched from pollution and disturbances Kanatal's soothing and fresh air when touches your tired face you feel heaven. A visit to this place will rejuvenate your soul.
4 ASOMATOUS TOUCH AND KANATAL'S RESILIENT TEMPERATURE-
For the devotees seeking for the shelter of almighty these hills assemble many temples in its folds. Most famous for the Shaktipeeth- Surkanda Devi this place hosts several other temples like Kalinka Mata Sidpeeth Mandir, Bharat Raja Temple, Nagaraja Temple, Shiv Mandir, Raghunath Temple, and others.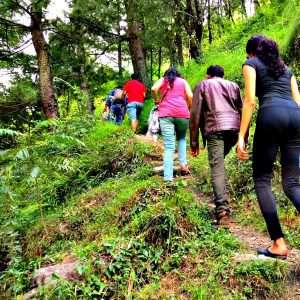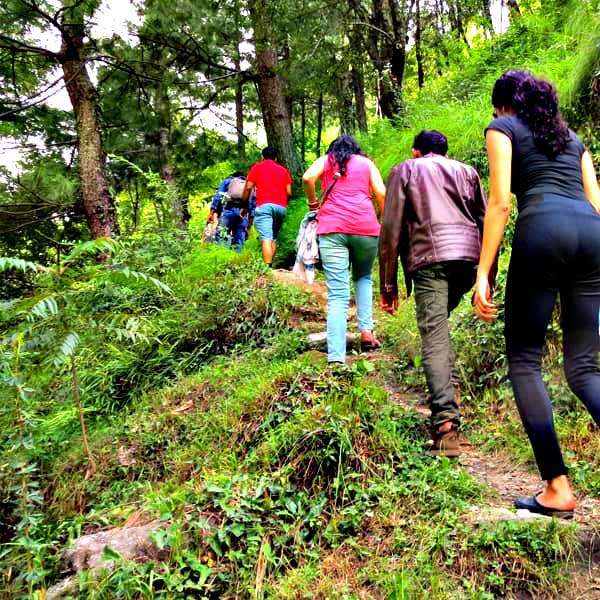 The best thing about this place is that the best time to visit in Dhanaulti and Kanatal is throughout the year. Now you must be thinking, how come the whole year can be the best time to visit Kanatal. As we know that April to June is the summertime, it is the time, when you will find pleasant weather and temperature in Kanatal and Dhanaulti i.e. around 20 degrees during the day time, July to September is monsoon time, though the rainy season is extreme, for those who love monsoons will enjoy their best in this time period in Dhanaulti & Kanatal. Last but not least October to February is the winter season when you can experience snowfall in Kanatal. Kanatal's snowfall is one of the best attractions of Kanatal and Dhanaulti because snowfall in Kanatal is perfect for tourists and that makes it the best place to visit in Dhanaulti. Kanatal's temperature is best in all seasons either you visit Kanatal for camping in Summer or in monsoons or to glare at those snowflakes or Kanatal in winters, this place will not fail to leave you awestruck.
But the majority of the tourists visit Dhanaulti camps &kanatal camps from April to June- Month. And this time is also called as the best time for Kanatal trek. If you really want to experience Kanatal trek with mesmerizing views. Then we always suggest Early morning Kanatal Trek or Sunset Kanatal Trek.
by Yashaswini Shukla