What makes Deoria Tal trek so special?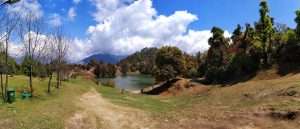 An ideal trek for the newbies, Deoriatal is divine in its own way, with a maximum altitude of 12,083 ft. Every climb is worth a shot!
The Deoriatal-Chandrashila! Usually, some trekking points give a mesmerizing view of the Himalayan ranges, but what makes Deoriatal-Chandrashila trek so special is its a far-reaching view of all the major summits. Sprawling Meadows, scenic beauty, blooming flowers in dense Forest make it a trekker's paradise and home to countless migratory birds.
Deoriatal-Chandrashila Trek can journey throughout the year. Hence, it is the most visited trek routes in Uttarakhand. The traveler's circuit is routed from Garhwal District of Uttarakhand to Tungnath-Chopta-Chandrashila. One visit to Deoriatal-Chandrashila offers promising peace and tranquility throughout one's life.
● Approximate Duration: 2-4 days
● Known For: lake offers a 300° panoramic view of all the major summits. Kedarnath Musk
Deer Sanctuary, Birder's Trail
● Difficulty level: Average
● Base: sari village
● Best Time to Visit: March-May & September-December.
● Routes to Consider: Direct access is not possible, break journeys are the only way out.
Deoria Tal is a 2km trek from Sari Village. In order to reach Sari Village, one needs to reach Ukhimath first.
1. By Air: Jolly Grant is the nearest airport available, however, one needs to book a private car to reach Ukhimath, Sari Village is 13km away.
2. By Rail: Dehradun Railway Station is the nearest and then continues on the road journey.
Sightseeing options are various in Deoriatal Trek, other than trekking, the destination also offers quaint resting places for picnics or just stopping by to enjoy the beauty of nature, or for yoga.
● Omkar Ratneshwar Mahadev: a 2kms drive, a temple dedicated to Nag Deva, which is located en route to deoria tal from Sari Village.
● Sari Village: Green valley with stone coupe houses. Sari Gaon is considered as the base which is 2.5 km away.
● Chopta: An unexplored picturesque Hamlet is considered as the & Mini Switzerland of Uttarakhand. A visit during snowfall is a must. It is considered as the base of Deoriatal – Chandrashila trek, the Meadows are covered in snow during winter, locally known as Chopta Bhugyal ( Bhugyal meaning Meadow)
● Tungnath Temple: The highest shiva temple, situated at an altitude of 3650 meters. It offers a panoramic view of one of the Panch (Five) Kedars. It is situated at a distance of 3.5 km from Chopta. Madmaheshwar, Tungnath, Rudranath, and Kalpnath with Kedarnath forms the Panch Kedar.
● Deoriatal Lake: Also called Indra Sarovar, earlier referred to in mythology texts. It has been one of the most visited tourist destinations in Uttarakhand.
● Kanchula Korak Musk Deer Sanctuary: If you've thirst for wildlife, you must visit here.