The adventure capital of the country, is the destination that has the top three highest mountain passes in the world. This destination has strong links with Buddhism and Tibetan culture. From architecture to cuisine, this city has an Eastern outlook. This is a very famous tourist destination for those who love isolated adventure spot for many outdoor activities that pump adrenaline into the brain. Ladakh is a stretch of null vegetation hills, craggy mountain passes, think snow, monasteries and clear water bodies that usually stands as block ice.
BEST TIME TO VISIT LEH LADAKH
Leh-Ladakh is a seasonal place, a place which invites one and all. Whether you are in love with the warmth of summer and prefer camping under open sky or you want to be mesmerized by the beauty of snow clad mountain in the chill of winter and enjoy winter sports, it has everything to offer you. However, depending upon the inflow of
tourists we can differentiate the peak and off peak seasons. PEAK SEASON May to September: With the advent of spring, the sun kisses the land of mountains. The snow laden mountains, the frozen lakes and the white carpet welcomes you in the month of end of May or Mid June. The sun begins to shine bright and normally the temperature
starts to rise during day. The sky is as blue as sapphire but the intensity of the sun rays does carve out the skin so keep yourself layered with Sunscreen. The temperature starts to dip down but the sun keeps kissing you.
It is a perfect blend of a temperature ideal for trekking. OFF SEASON Octuber to February. If you have a bone for the chill then only think about the travel to this part of the world in winter. The temperature can dip down to -20 degree Celsius and climate becomes unbearable. People don't prefer to travel during the chilling months of Octuber to February. Most of the trekking routes remain closed due to snowfall with the exception of Liker to Kahltsey (sham) trek. The Chadar trek is best conducted between January and mid-March.
If you want to Cover Ladakh by Road between Mid June to September, you can check and go though with Brief Itinaerary below. This is one of the best Itinerary that you can cover all Leh & Ladakh Beauty with Srinagar, Kargil, Nubra Valley, Khardungla Pass, Pangong Lake, Deskit Monastery, Changla, Jispa, Sarchu, Lachlung La, Rohtang
Pass, Manali with amazing landscape beauty & Mountain.
Ladakh 11 Days Itinerary :
Day 1 Delhi – Jammu ( 590 Kms / 12 hrs )
We will Start our journey, Early morning around 4 AM, Departure from Delhi. Will Reach Jammu by Evening. Overnight at Hotel.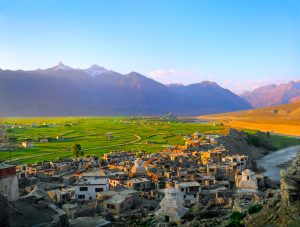 Day 2 Jammu – Srinagar ( 270 Kms / 8 Hrs)
Early Morning departure from Jammu. Enroute have Breakfast & Lunch. Raech Srinagar By 2-3 PM. Later on, get ready to visit the breathtaking Mughal Gardens- founded in the Mughal era. Nishat Bagh, Chashme-e-Shahi and Shalimar Bagh comprise the Mughal gardens.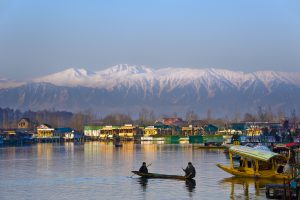 Day 3 Srinagar – Kargil ( 200 kms / 06 Hours )
On day 3, post breakfast get ready for your road transfer to Kargil. On the way, there are halts at Sonamarg –a pristine valley with lush views and snow-clad peak; Zo jila Pass (a high altitude pass); Drass Village- the world's 2 nd coldest inhabitant place. Here you visit War memorial hall and Museum- also known as Vijaypath. The memorial was constructed by the Indian Army in the memory of the soldiers and officers of the Indian Army who laid their lives in Kargil War. Evening arrival in Kargil. Check-in formalities. Overnight stay in Kargil.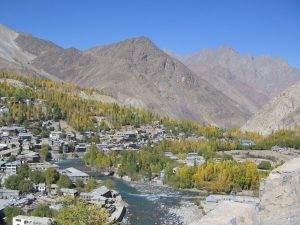 Day 4 Kargil – Leh ( 220 kms/ 06 Hrs )
After breakfast, start driving towards Leh. On the way stop for a quick visit to the Lamayuru monastery. Lamayuru is known for its unique landscape that resembles the moon. Take clicks of the beauty to cherish it as wonderful memories. Continue with your journey. Stop at the Magnetic hill to marvel at the amazing natural wonder.
Also pay respects to Pathar Sahib Gurudwara- constructed in memory of Guru Nanak Dev ji- the founder of Sikh religion and the first guru. Continue your road journey. On arrival in Leh, visit the Hall of Fame Museum a war memorial by the Indian Army that was founded in the memory of Indian soldiers who laid lives in Indo-Pak wars.
Complete the check-in formalities at your hotel. Overnight stay in Leh.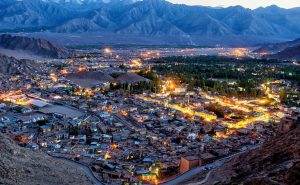 Day 5 Free Day Explore
The day is free of plans. Enjoy the comforts of your hotel. Or option to explore the local market. As Leh is located at such high altitude, you need to acclimatize. Take sufficient rest, intake of fluids, in addition of walking and getting mobile. Overnight stay in Leh.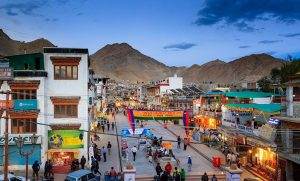 Day 6 Leh -Nubra Valley 120 km/ 4-5 Hrs
On the 5th day of your Ladakh tour, you will proceed towards one of the wonders of the land. After breakfast get ready for transfer to the gorgeous Nubra Valley via Khardungla Pass- one of the highest motorable roads in the world with an altitude of 18,380 feet. As you reach the Valley, check into the hotel. Have lunch. Later, leave the comforts of your room to enjoy a ride on double-humped camels back to explore the Sand Dunes between Deskit and Hundur Village. Treat your eyes to the scenery all around. Overnight in Nubra Valley.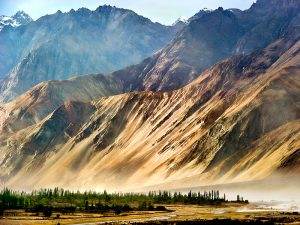 Day 7 Nubra Valley to Pangong via Shayok route
Start the day early with a hearty breakfast. Later, get ready for a visit to Deskit Monastery to get blessings of Lord Buddha. The ancient monastery has a pious ambiance that blesses all who pay a visit. Revel in the magnificent views of Nubra Valley. The beautiful valley in the & Land of High Passes & is nothing short of amazing for all your senses. While you drive to Pangong Lake via Shayok River you can enjoy views of amazing landscape beauty. The view itself gives you a rush of adrenalin with its limitless opportunities of adventure. Stop for lunch at Durbuk. After a break of 1 hour, continue with your drive to Pangong Lake. On arrival, check into the tents. Bask in bliss with a view of the multiple blue colors of the water. In addition, start gazing at Pangong Lake is also an experience of a lifetime.Overnight stay in Pangong Lake.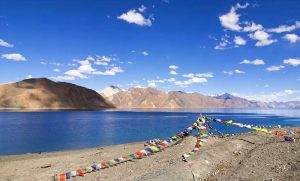 Day 8 Pangong to leh via changla
Early morning enjoy the picturesque view of Sun rise on lake. After Breakfast drive back to Leh, enroute visit Thiksey Monastery and Shey Palace. Our driver will drop you Leh market and explore yourself. Later car will leave service station.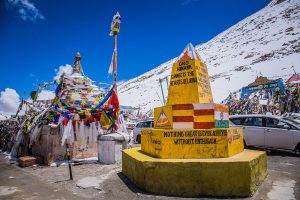 Day 9 Leh to Jispa via sarchu
After Breakfast 7:30 drive to Sarchu passing, Skyangchu Thang – Enjoy your lunch at Pang, by crossing Nakeela and Lachlung La. Continue drive to Jispa Arrive Jispa by evening. O/N Jispa.
Day 10 Jispa–Manali 140 Kms/ 6 Hrs.
After the breakfast drive for Manali, a beautiful scenic drive by crossing Baralacha La (4845m), lunch at Sissu village, later cross famous Rohtang Pass, 13050 ft. Arrive Manali / Manali sightseeing later back to hotel (arriving Manali depend on traffic of rohtang pass.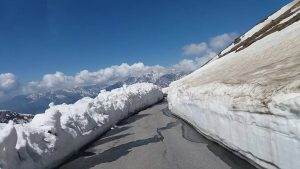 Day 11 Manali – Delhi ( 550 kms/ 14 hours )
Today is the last day. After Breakfast, Start your journey back to Delhi with beautiful memories….