Rishikesh is a magnet for divinechasers, is the calmest place in northern Uttarakhand. With multitudes of ashrams, it has been called as the 'Yoga capital of the world'. This place provides great opportunities for adventure sports like trekking, climbing, mountain biking. But it is well known for white water rafting on River Ganga (or the Ganges).
People visit this place in search of spirituality, peace as well as adventure. From September to June is considered to be the best month to visit Rishikesh. During 1968, the Beatles came to this holy city to get in touch with the spiritual side. Since then, the city became the top spiritual destination in the world.
Adventure sports in Rishikesh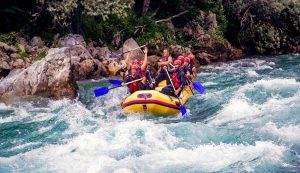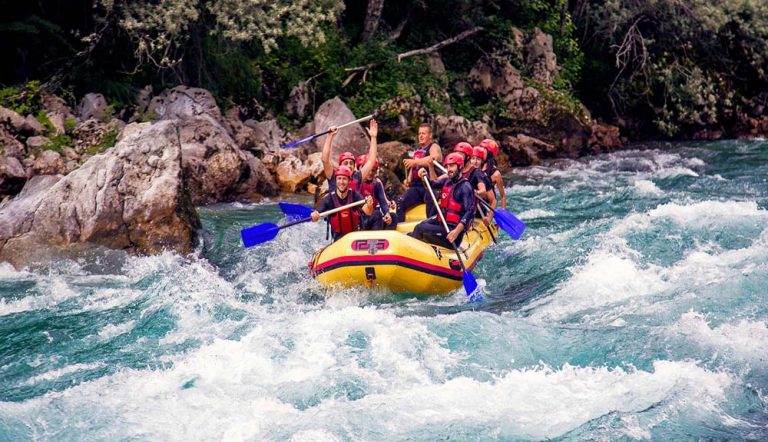 Rafting: when in Rishikesh, you cannot miss experiencing white water rafting. It has three stretches ranging from 9 km to 24 km, with a varying number of grades from II to IV. The minimum age to experience rafting should be 14 years.
09 Km: This range starts from Brahmpuri and ends at nim beach, Rishikesh. It is suitable for beginner or non-swimmer. You will face a few class II rapids as you slowly move and relax with the flow of the river. The total duration of this range is 2 hours and costs around 600 rupees, which includes the cost of a life jacket.
16 Km: Shivpuri is the starting point, which is around 16 km away from the nim beach. It completes in 3 hours and is suitable for non-swimmers who want a more thrilling experience. You can even try body surfing and cliff jumping in this section. The cost is around 800 rupees.
24 Km: It is a kind of half-day rafting that is it takes 4 hours to complete the whole 24 km section. It starts from Marine Drive and stretch of river has about eight grade III/III+ rapids each. It is suitable for experienced ones as this grade is difficult and has high irregular waves.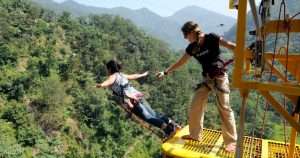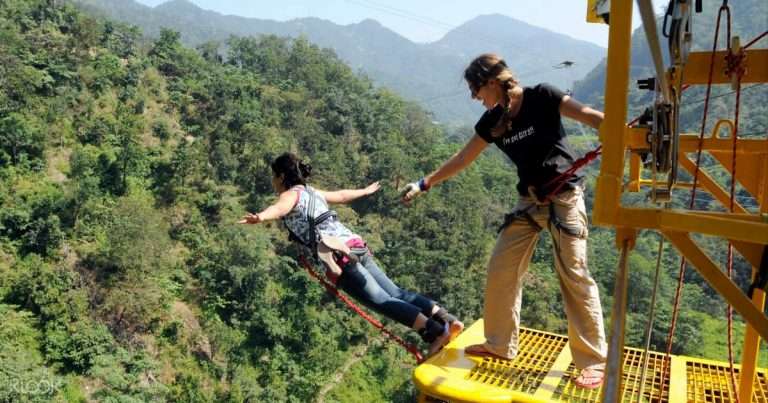 Bungee Jumping:It is the most adventurous activity one can experience. Jumping from a place that is at a great height with a cord that is properly attached to a surface or any object that can bear heavy weight. Rishikesh boasts the country's highest bungee jumping. The minimum weight of a person to experience this activity should be 30 kg.
Jumpin Heights located in Mohanchatti is the best venue in Rishikesh for bungee jumping, which is run by Jump masters from New Zealand. It features India's highest bungee jumping with the height of 83 meters. It is open every day, expect Tuesday. The entry ticket is rupees 100. This place offers various other adventurous activities like flying fox, Giant swing. You can take various comb provided by them. The basic price for Bungee jumping is 3550 Rupees. Bungee Jumping will surely help you to feel like you are a bird.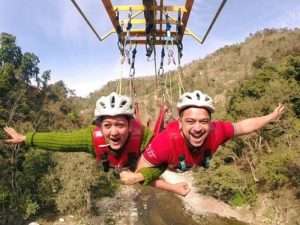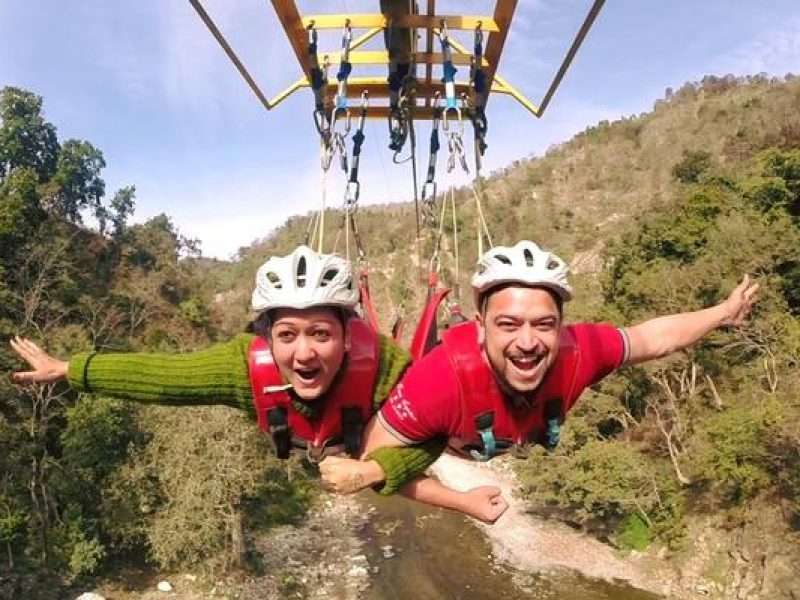 Flying Fox: Being the best bungee jumping in India, Rishikesh also is ahead in Asia to have longest Flying Fox. It is 1 km in length and 120 meters high. You are attached to the wire and release by gravity roll down the wire up to 7 meters above river level and then going up. Finally returning and relaxing down at the lowest point.
Requirements:The minimum age to do Flying Fox is 12 years with the minimum weight of 20 kgs. Tha maximum weight the wire could take is 130 kgs.
The cost is as follows:
Entry ticket: 100 rupees
Flying Fox:   1,700 rupees (In Tandem)
3,000 rupees (Solo)
Waterfall Trekking: Rishikesh is not just about ashrams, river ganga, white-water rafting, but is also well known for numerous hidden waterfalls. There are three main waterfalls, among which you can choose one to trek to.
Neergarh waterfalls:Neergarh waterfalls also known as 'NeerGaddu' is among the most frequently visited waterfall as it is the easiest to access. The trek to Neergarh Waterfall starts 3 kms away from laxmanJhula on Badrinath highway. During summers many travelers visit Neergarh waterfalls to bath in the natural pond under the waterfall. The duration to explore is around 2 hours.
Garudchatti waterfall: A photogenic place which one could not miss at any cost. This waterfall lies 4 Kms away from the famous Lakshman Jhula on the Neelkanth Mandir Road. This waterfall looks most beautiful during monsoon when the water flows through different levels.
Patna Waterfalls: This waterfall is named after the village Patna situated nearby. Nature lovers like to go there and admire the nature here. It located around 6 kms from LakshamJhula.
Rishikesh is a popular camping spot, along with trekking, river rafting. Here nature shows its exemplary work through a combination of mountains, rivers, waterfalls etc. If you looking to spend a relaxing time along with some centric activities, Rishikesh is the best option plan for you.
By Neha Kumar