When it comes to Himachal Pradesh, we will always think of Shimla, Manali, Mcleodganj. Spiti Valley often crosses our mind at the last. It is a place beyond our imagination. Breathtaking view, atmospheric Buddhist monasteries, unique culture, spiti valley is undoubtedly the best offbeat destination in India.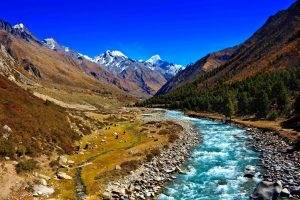 Place to visit in Spiti Valley
Spiti is famous as the 'Land of Lamas' because of the Buddhist culture preserved over there. The Tabo Monastery located here has been known as a UNESCO world heritage place. The other place one can wander in Spiti Valley are: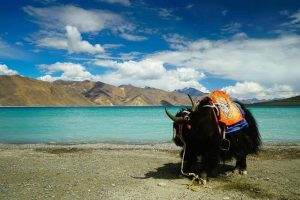 Chandra Tal Lake:

One of the most beautiful lakes situated at an altitude of 4300 m, Chandra Tal Lake also known as 'lake of moon' because of crescent shape. It a paradise for trekkers, which was once a residence for Tibetan traders travelling to spiti and Kullu valley.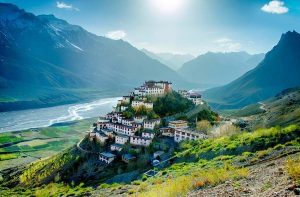 Key Monastery:

A famous Tibetan Buddhist monastery in the Lahaul and Spiti District, Key Monastery is located at an altitude of 4,166 meters above the sea level. Along with being the biggest monastery in Spiti valley and an attractive place for tourist, it also a training center for the Lamas.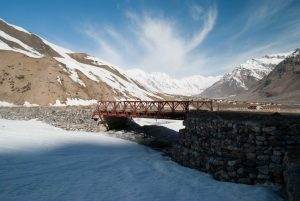 Kunzum Pass:

The Kunzum Passis one of India's highest motorable mountain passes,located in Himachal Pradesh. A large number of bikers visit this place to experience the most exciting ride through the spectacular gateway. Kunzum La offers an incredible 360-degree view of Bara- Shigri Glacier. It's an eye treat for nature lovers.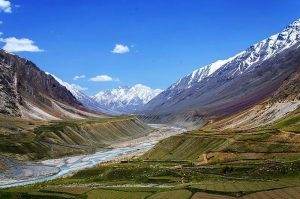 Pin Valley National Park:

The rare species of famous Himalayan snow leopards and their prey, the Ibex are found in The Pine Valley National Park. The park is elevated from about 3,500 meters to more than 6,000 meters. It is most famous for its farfetched trek which is pleasure for all its visitors.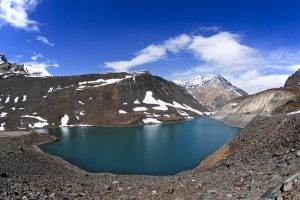 Suraj Tal Lake:

Suraj Tal Lake means the Lake of the Sun God. It is a scared body of water that lies just below the Bara-lacha-la pass in the Lahaul and Spiti valley. Being a scared body of water, it is considered that a holy dip in the Lake can purify one from all the sins. It is 3rd highest lake in terms of altitude.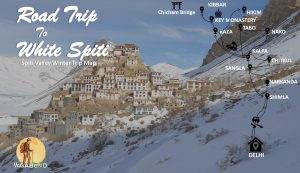 The distance between Delhi to Spiti Valley is 741 kilometer and expected travel time is 15 hours to 16 hours. Though there is no direct bus. But you can travel by your car, bike or hire a tempo traveler to reach Spiti valley. There 2 routes to reach the spiti valley,
Route 1: via Manali
Route 2: via Kinnaur through Hindustan – Tibet Highway
The nearest airport to spiti valley is in Bhuntar, near Kullu, 245 km away or Chandigarh International airport which is 522Km away from the same.
Best Time to Visit Spiti Valley
May To October is considered as the best time to visit Spiti. During this time the temperature ranges from 15 to 20 degree Celsius, which is perfect for relaxing and relishing the nature. During winter months the valley loses it road connectivity due to heavy snowfall via Manali route. One can visit spiti via Shimla- Kinnaur Highway throughout the year.

If you are a road trip lover, Spiti valley road trip will make you fall in love with the Himalayas like never before. Usually it is 09 days and 08 nights road trip, starting from Capital of the Country" DELHI"through Shimla and Kinnaur highway to Spiti valley and come back via Kullu-Manali to Delhi. One can enjoy the traditional local cuisine, Himanchal &Tibetan culture, relax in the lap of nature. If You have the hunger for breathtaking view, relaxing vibe and adventurous roads, then Spiti valley road trip will be best for your Soul.